Vinyl Flooring Color Trends for 2020
Share
From

https://www.msisurfaces.com/blogs/post/2020/01/24/vinyl-flooring-color-trends-for-2020.aspx
Issue Time

Mar 2,2019
Summary
A favorite flooring trend among homeowners and industry professionals is vinyl flooring. The look of hardwood is always trending, so it's no wonder that luxury vinyl tile (LVT) continues its popular trajectory.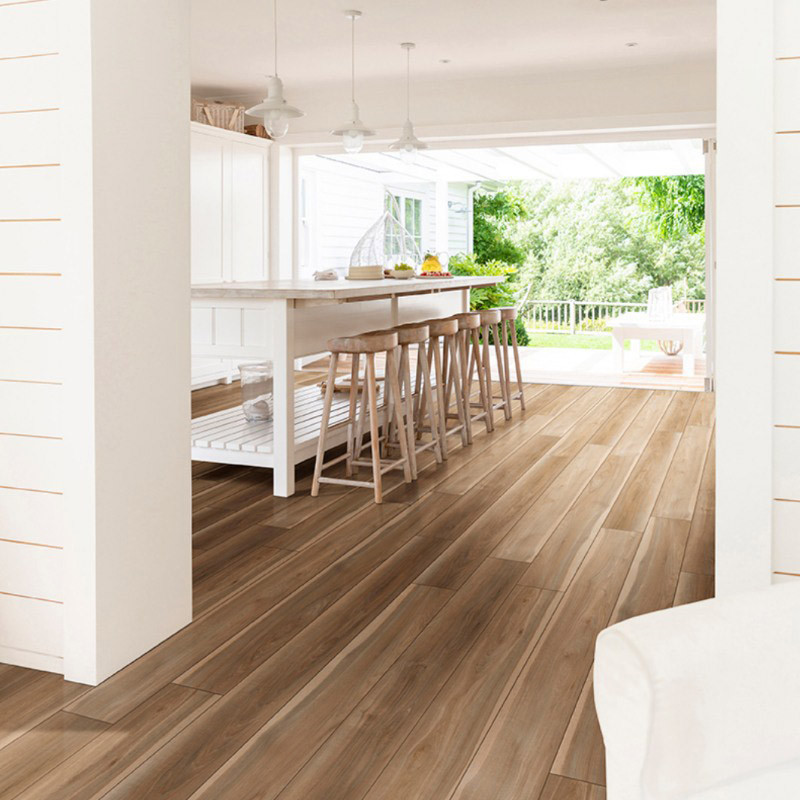 A favorite flooring trend among homeowners and industry professionals is vinyl flooring. The look of hardwood is always trending, so it's no wonder that luxury vinyl tile (LVT) continues its popular trajectory. This "greener" option comes in every stylish wood color imaginable and will give your space a warm and cozy feel without needing traditional hardwood. However, with the start of a new year and new decade comes a change in style. Colors with whites, grays, light tones, high variations, and more are all trending for 2020. Before you start your next project, be sure to check out these stylish wood colors that work with traditional to modern tile designs.
BLONDE BRILLIANCE
As homeowners desire light and airy feels for their homes, they are choosing lighter tones like blonde wood-look luxury vinyl tile. The versatile color is not only a trend that will become a timeless classic, but it also makes rooms feel bigger and more open, especially when using larger planks. The home decor choices are limitless, as the light colors set the perfect neutral backdrop for rustic to contemporary and relaxed to upscale styles in both residential and commercial properties.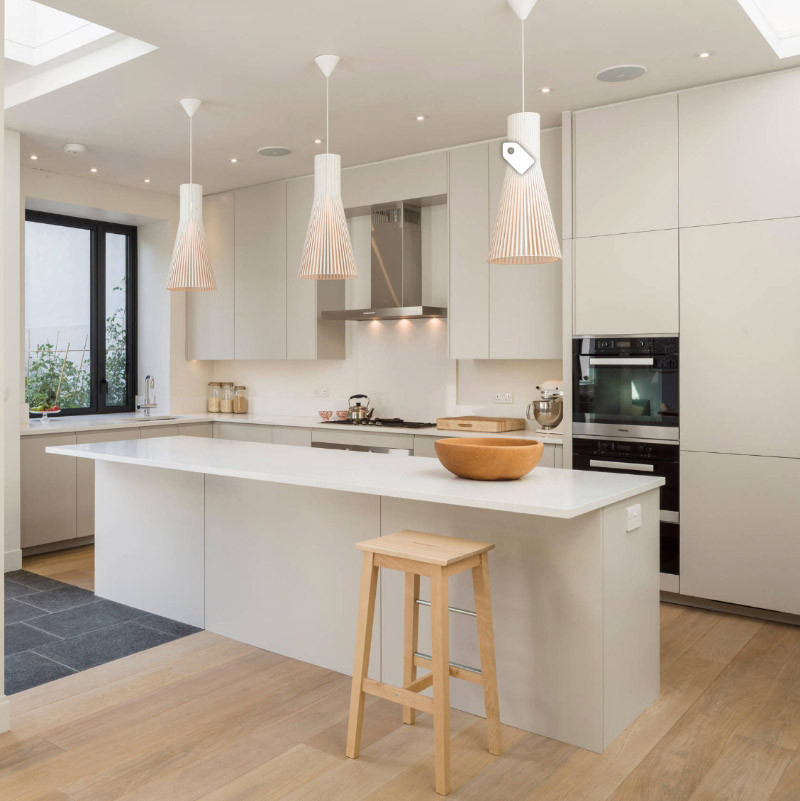 HONEY HUES
Warmer tones are definitely trending for 2020, and one step richer than blonde is warm honey. This hue provides the same benefits of blonde-wood looks but in a slightly darker tone. As trends bounce from cool to warm tones, honey is a cozy color classic that is sure to stick around for decades.
DISTRESSED DYES
While the distressed look isn't completely new, it's becoming even more popular in 2020. Distressed wood-look vinyl styles offer a luxurious aged look perfect for rustic designs and come in various degrees of distressed looks to match your individual style. Another option for LVT is distressed concrete floor looks. Instead of polished concrete, this design features a worn-out patina for a distressed look that can be installed in industrial to contemporary designs.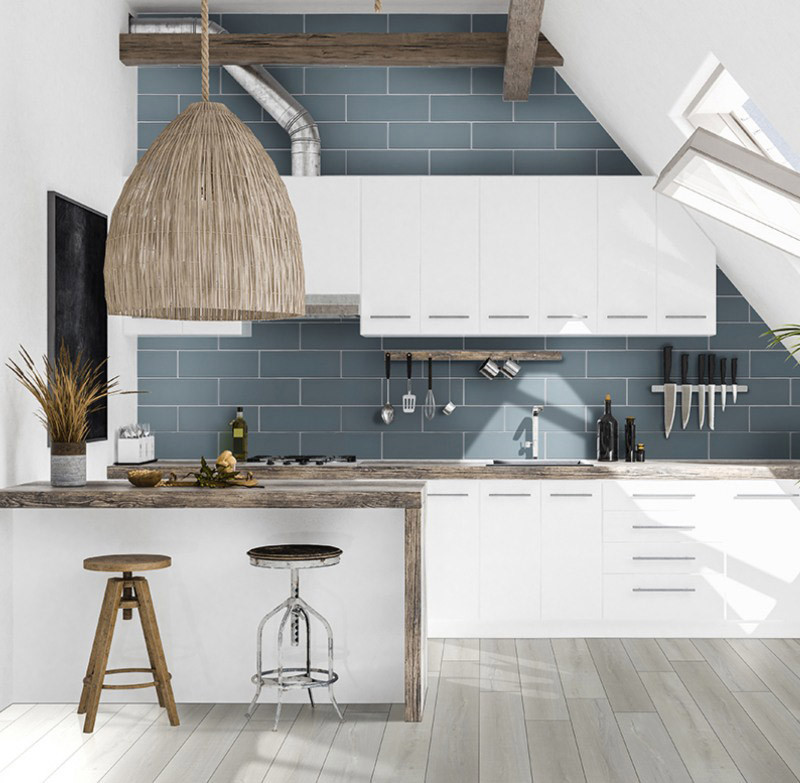 WHITEWASHED WOODS
Even more extreme lighter tones on trend are whitewashed wood-look
luxury vinyl planks
that evoke a beachy look. The California cool trend of the west coast is starting to travel to some parts of the country, as the comfortable and relaxed vibe is perfect for other styles, too, like farmhouse to contemporary. With darker tones peaking through the whitewashed-wood look, this style is right on trend with the aged, worn styles that are right on trend. And similar to blonde wood, the lighter tone will also make a space appear larger and even brighten up a room, which is a real benefit for houses lacking a lot of natural light. However, dark furnishings will become a stark contrast against a whitewashed floor because the light tones create such a large impact on a space. But, it looks fantastic when complimented with any shade of blue, which not surprisingly falls in line with the beachy style.
GRAY GOODS
Going gray isn't a fad but a popular pick for flooring no matter the year, and whether you prefer lighter or darker shades is simply personal preference. The neutral vinyl allows homeowners and designers to play with any color design, from monochromatic tones to black and white to bright, bold colors. Gray vinyl also comes in way more options than just the cool, contemporary tones that have been so popular the last few years. With today's choices, you can pick from warm greiges to dark charcoals to gray-browns for an updated look with traditional undertones.
HIGH-CONTRAST HUES
For design that's anything but basic, select a high-color variation vinyl for added dimension and excitement. With today's technology, manufacturers are able to mimic the random, natural looks that are perfect for rustic to contemporary styles. This type of flooring definitely makes a statement, so be sure that you absolutely love the bold design. And even though it's a specific style taste, it likely will stick around for the next decade or longer.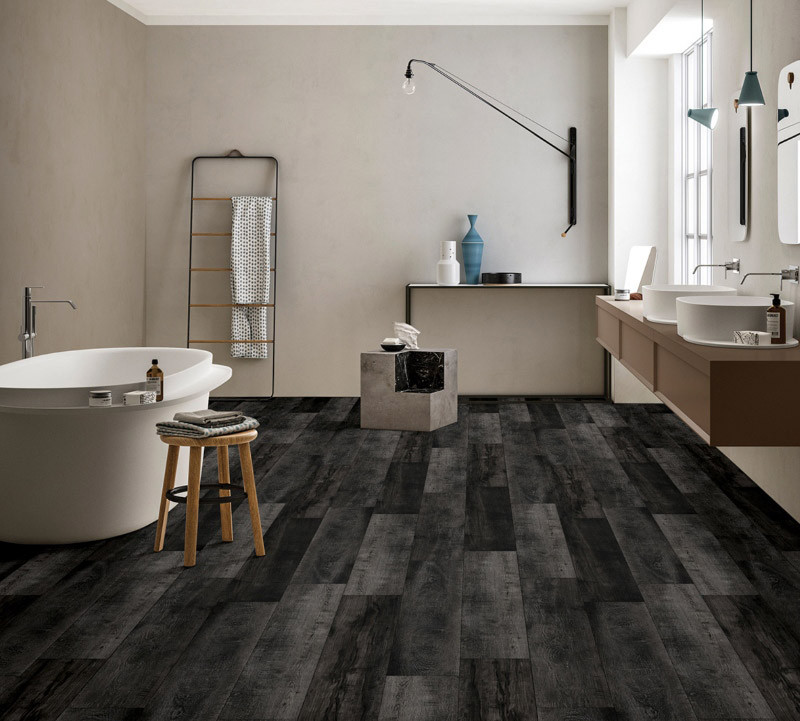 GORGEOUS GRAPHICS
One of the newest trends is decorative vinyl, and it certainly has room to grow over the next few years. Not all vinyl needs to mimic natural elements like wood or stone. Instead, create a unique space using various graphics with regimented patterns to free-form style to pieces that form one large pattern. You can be as adventurous or cautious as you want to be by implementing a multitude of colors or monochromatic tones. And since planks are not only easier for DIYers to install than tile, they also make it simple to line up patterns like parquet to trellis designs. Some of the best places to try more creative flooring include kitchens, bathrooms, and entryways.
POWERFUL PIGMENTS
You might be surprised to see vinyl planks and tiles featured in a rainbow of colors like red, pink, or yellow. Yes, while these bold splashes of color move away from the trending natural tones mentioned, don't think you have to feature them in your home! This trend is primarily popular in commercial spaces as accents that wake up more subdued floors. But, if bold is your design mantra, then this trend might be just what you need to create a happier home.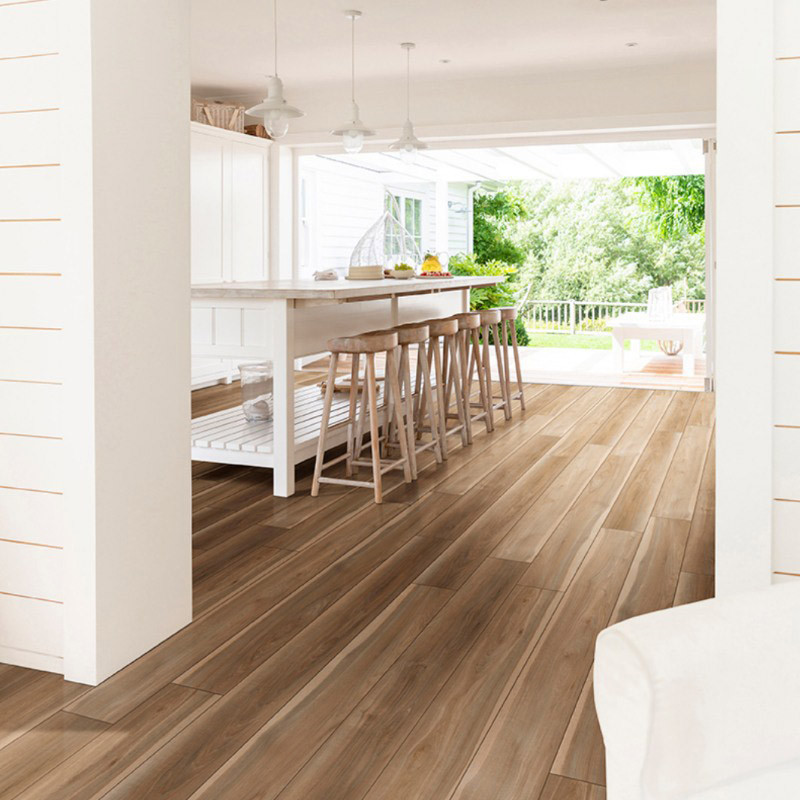 Vinyl tile flooring will be featured in more homes and commercial spaces than ever seen before. That's because the technological advancements make it possible for manufacturers to create vinyl flooring that so closely mimics real hardwood and natural stone you won't believe it's not the real deal. If you want to express your creativity through flooring, you can choose from other unique tiles with artful patterns not found in nature. The ability to install waterproof or water-resistant vinyl in any room is also one of its biggest benefits since you can create a streamlined look that flows from one space to another. Before you pick your favorite vinyl color, make sure that it's something that suits your personal aesthetic, whether it's a subtle tone or loud pattern. Choose a product you will love for years or even decades and not because it's a fleeting trend.